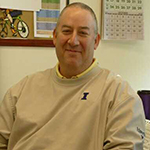 Dr. Wheeler is currently Senior Marketing Manager with the US bioMérieux Industry team. His focus is on the marketing of equipment and reagents used in the preparation and analysis of food samples for microbiology testing.
Dr. Wheeler's career spans nearly 30 years with roles in operations, research, sales and marketing. Prior to joining bioMérieux, Dr. Wheeler was Director of Sales and Marketing for the Drug Discovery unit at Millipore Corporation, Sales Development Manager for Sigma Aldrich, and Key Accounts Manager for Thermo Fisher.
Dr. Wheeler holds undergraduate degrees in biology and chemistry, master's degrees in chemistry and business administration, and a doctorate degree in business administration with concentrations in mergers and strategic marketing.
Dr. Wheeler's research interests comprise marketing research, technology mergers, sales force effectiveness, ecommerce, and leadership development