---
The FoodBytes Newsletter is published August - May during the week following each dinner meeting. It is an e-newsletter available to anyone.

If you are not on our mailing list join now!
Past editions of our newsletters since 2007 are available to CSIFT members only and can be accessed by logging into the Members-Only site.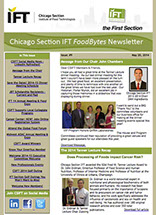 To submit an article for consideration, contact BusinessOffice@ChicagoIFT.org. All articles submitted are to be ready to print and submitted via a Microsoft Word document fully formatted.
We use cookies and we also use Google Analytics. By continuing to use this site you consent to the use of cookies. You can view more info about this and personal data on our Privacy Policy page.