The Jonathon Baldwin Turner (JBT) Scholarship is the premier scholarship program of the University of Illinois College of Agricultural, Consumer and Environmental Sciences (ACES). For over 30 years, scholarships have been awarded to outstanding incoming freshman on the basis of leadership, good citizenship, and scholarly achievement. Applicants must meet minimum academic requirements and then participate in a scholarship interview. JBT scholarship recipients may be awarded up to $10,000 over four years.
Access more information on the JBT Scholarship here
The Chicago Section IFT Jonathon Baldwin Turner Scholarship is designated for a student studying food science. CSIFT currently contributes $8000/year to this scholarship and the contribution is enhanced by $2000 from the College of ACES. CSIFT began its support of this scholarship in 1987 with a $1000 donation. Since support began, CSIFT has provided continuous annual support and contributed over $114,000 to this Scholarship Fund. Over this time, 30 JBT awardees have benefitted from CSIFT support.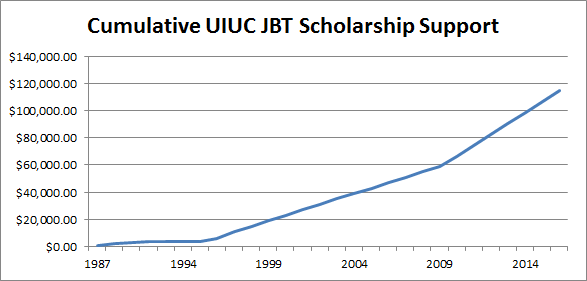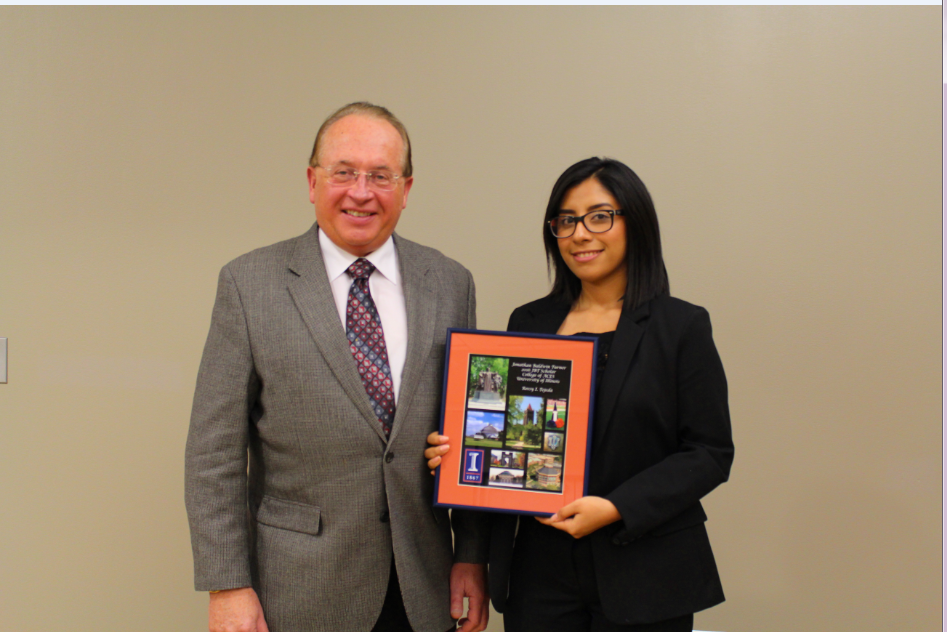 JBT Awards 2016 recipient Rossy Tejeda with Mike Wanous (CSIFT)
In 2016, Rossy Tejeda, a freshmen food science major, received the CSIFT-sponsored JBT Scholarship. Below is the complete list of recipients. For more information on the Scholarship, open the "Background and Information" tab.
Recipient Name | Freshman Year
Peng Chen | 1987
Dannette R. Pittenger | 1988
Rita Sharma | 1989
Carrie L. Bernaski | 1990
Lebecca A. Gills | 1991
Mindy J. Edidin | 1992
Lynda Barrios | 1993
Chris J. Meier | 1994
Amanda L. Carlson | 1995
Andrew G. Moltz | 1997
Lia Andrae | 1998
Landon C. Terry | 1999
Rachel Langer | 2000
Robin Burke | 2001
Erin Redding | 2002
Marquita Johnson | 2003
Leslie Selcke | 2004
Michelle Moy | 2005
Recipient Name | Freshman Year
Maxine Roman | 2006
David Bloom | 2007
Kathleen Harsh | 2008
Stephanie Andler | 2009
Amanda Rosendale | 2010
Karen Chen | 2011
Carly Rosenberg | 2012
Samantha Larocca | 2013
Janique Tyler | 2013
Naomi Mitts | 2014
Lindsey Kelso | 2015
Rossy Tejeda | 2016
Andrew Borbely | 2017
Jennifer Ventura | 2017
Rhiannon Loutfi | 2018
Casey Gallop | 2019
Madeline Mertodgan | 2019
We use cookies and we also use Google Analytics. By continuing to use this site you consent to the use of cookies. You can view more info about this and personal data on our Privacy Policy page.