---
Information
Date: Wednesday, January 8th, 2020, 6:00 - 8:45PM
Location: Greater Chicago Food Depository
4100 W Ann Lurie Place
Chicago, IL 60632
Registration is free and required in advance for this event.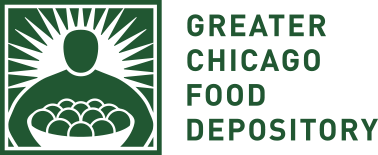 Spread some holiday cheer by giving back to the Chicagoland community in the new year! The CSIFT New Professionals and Membership committees have partnered with the Greater Chicago Food Depository for a group volunteer event! The Greater Chicago Food Depository regularly needs volunteers to help repack donated food and other products so they can be distributed to participating food pantries, soup kitchens and shelters in Cook County.
For more information about the Greater Chicago Food Depository, visit their website at https://www.chicagosfoodbank.org/ or contact Volunteer Services 773-247-3663 volunteerservices@gcfd.org
Please arrive 10-15 minutes prior to the start of the session. You will need to create a volunteer profile and sign a waiver form with Greater Chicago Food Depository in order to participate. Group registration closes at 20 people, however, you may still be able to sign up as an individual volunteer through the Greater Chicago Food Depository's calendar.
The Food Depository's parking lot is available for Wednesday evening and Saturday volunteer sessions. For Repack Sessions on weekdays, non-metered, non-permit parking is available on Karlov Ave., Ann Lurie Place (42nd Place) and 40th Street. Please refrain from parking on Keeler Ave., which is currently reserved for construction vehicles.

Click to to open & close map of meeting

Click to view calendar
We use cookies and we also use Google Analytics. By continuing to use this site you consent to the use of cookies. You can view more info about this and personal data on our Privacy Policy page.