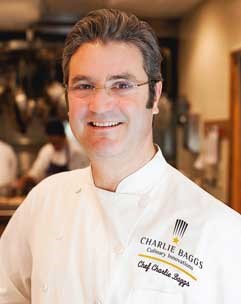 Chef Charlie Baggs has been passionate about developing products for over 20 years in both foodservice and CPG segments.
He has worked with over 125 companies in an executive chef capacity. His passion is to help his clients meet their culinary goals and to be the best in the industry.
Charlie studied at Purdue University and the Culinary Institute of America. He holds a BS in management and an AOS degree in nutrition from Purdue and a AOS in Culinary from the CIA.
He takes great pride in teaching food scientist, sales, and marketing teams culinary arts. His focus hones-in on various cooking techniques from around the world. He will drive your team's passion around food.
The CBCI team has a consumer-focused development approach. This perspective is also relevant in his cooking instruction method. He will use an EDGE (Educate, Demonstrate, Guide, Enable) model in teaching.
Chef Charlie is a recognized Instructor for IFT, Purdue University, IIT, RCA and various corporations. Charlie has self-published a text called "Culinary Training Program" which he has been used for 20 years. He remains passionate about food, cooking, traveling while studying global soul food. He is raising his family of six in the Lincoln Park neighborhood of Chicago where his headquarters is also located.