---
Information
Date: Thursday, February 28th, 2018, 6:00 - 8:00PM
Location: Cocoa + Co.
1651 N. Wells St.
Chicago, IL 60614
The event is $20 and requires registration. Sign up by end of day Tuesday, February 19th.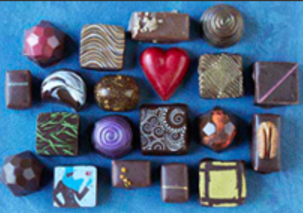 Chocolate has a long and colorful history as an essential token of love and affection. Some still swear its aphrodisiac powers are unsurpassed. Truth or magical myth? We'll explore the chemical make-up of cacao, consider the famed characters who found it essential in matters of the heart, and sample selections infused with flavors thought to enhance romance.
Chocolates will be paired with craft beers for a night of fun, history, and learning. Note: There is street parking around this venue and unfortunately no additional food (outside the chocolate and craft beer) will be served so try to grab a bite to eat before coming to class. Look forward to kicking off 2019.
We use cookies and we also use Google Analytics. By continuing to use this site you consent to the use of cookies. You can view more info about this and personal data on our Privacy Policy page.